Smart Home Security Automation Starts at the Front Door
The driving force behind growth in the home automation sector has always been to make our everyday lives better. The benefits of home automation investment supersede the financial expenditure we need to get a project off the ground. We tailor our homes to fit our needs, overcome barriers and improve inclusivity for all ages. When even part of this is taken away, a sense of loss is immediately felt. This is why smart home security installation is a crucial part of any project.
Just a few years ago, many connected-home devices lacked the security features that homeowners need for protection. A security-led subsector in the home automation industry has developed swiftly with a whole range of cameras, locks and sensors for a range of budgets. The benefits of smart home security include:
Installing a wireless system is no longer the arduous task that it once was. It is easy to replace an existing system with the same device or a new model as many utilise sensors from an old system.
Security is second to none – real-time alerts, back-up power solutions and the elimination of exposed cables combat traditional security vulnerabilities.
Flexibility – compact security sensors are easy to install, or move across to, indoor and outdoor surfaces like a garden gate or the side of a cabinet.
Systems to suit you – homeowners can easily find a system that will adapt to their circumstances, for example adding a camera to a new nursery, or placing a sensor by a newly purchased valuable item.
Easily accessible – receive information from your security system from anywhere in the world, and monitor cameras from a simple mobile app.
Locks
How many of you have frantically fumbled around for a set of keys at night in the past month? Like any home automation device, smart locks are designed to alleviate or eliminate everyday stresses. Smart locks make traditional counterparts look slightly flimsy. You'll have peace of mind that an intruder won't be able to access your property armed with just a toolbox or even a paperclip.
A smart lock is always on guard to recognise pre-approved family members as they approach using data encryption technology that can't be copied. This provides a layered approach to home security that can't be matched by older mechanisms. Smart locks today supplement or even replace traditional door bolts. Most models come with inbuilt alerts and tracking capabilities as standard. The latest generation of smart locks blend customisation, convenience and remote access into a small device that doesn't look cumbersome or out of place on your door frame. There are two common ways to integrate smart locks for your home:
Combine traditional and 'next gen' tech by opting for a remote control security system
Ditch tradition in favour of software systems which discard keys altogether.
Sensors
A sensor is one of the most effective devices for protecting and monitoring your home, as well as one of the most versatile. They come in a variety of forms: some use high-frequency sound waves (which you can't hear) to monitor a space; others work on infrared light to emit an electrical signal; while others wait for a specific event like someone walking down a driveway, rather than continuously monitor an area, to improve efficiency. This multi-layered approach leaves no stone unturned when it comes to home safety and security. Today's sensors are subtle, well-designed and adaptable. They can be used to light a pathway to the bathroom for children during the night and turn on the TV when little feet cross over a living room threshold. Day or night, a sensor will be on standby to alert you to a potential security issue before it reaches your front door.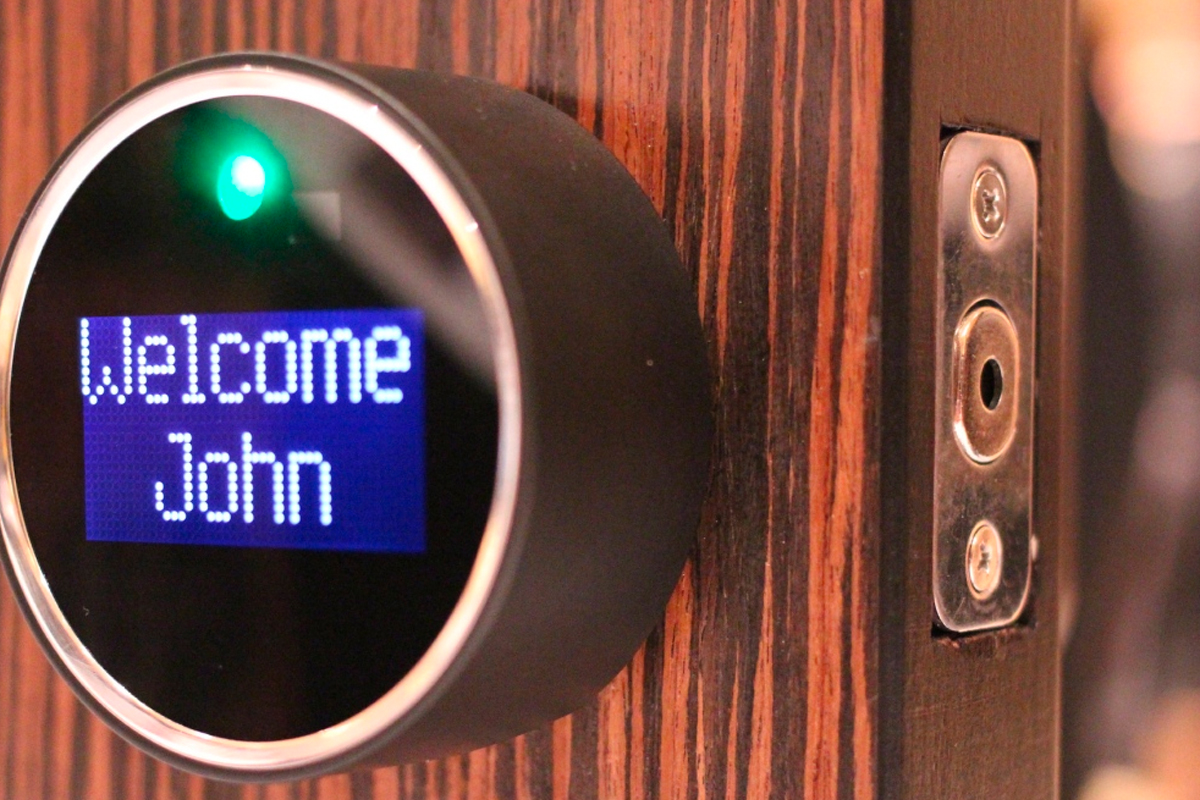 Geofencing
Geofencing uses the geo-location of your property to lock down your whole home. If you are worried that smart locks and sensors do not cover a dark corner of your home, geofencing a complete area will take care of this concern. So, how does it work? The virtual fence alerts you when something or someone enters or exits a pre-determined zone. This can be set up and monitored on your smartphone with Bluetooth software that works off a Wi-Fi connection.
Geofencing capabilities also extend to everyday safety issues, rather than isolated events, like a break in through the back door. Our clients can set up outdoor safety zones in a room or in the garden to stop children venturing into dangerous areas. If someone should wander out of a safety zone and next to the edge of a swimming pool, for example, an alert will sound to keep you notified at all times. We can adjust the sound depending on taste – to keep you notified at all times.
Cameras
Specs amongst today's smart security cameras differ quite a lot. Some provide smart, straightforward functionality but without features like live video streaming, others are equipped with crisp, high-quality video that puts some HD cameras to shame, and some products connect to spare mobile devices to turn them into a fully functioning security camera within moments – it all depends on what takes your fancy. Wireless camera products have become popular because they are compact and sleek in appearance, and they are able to integrate into an existing home automation scheme.
Ready to Start Your Project?
Let's discuss your property visions and how our services can facilitate your journey into the wonderful world of home automation.
Make an Enquiry