Multi-room, multi-source, multi-media systems
A smart home is not complete without a sophisticated multi-media system, allowing seamless, high-quality playback of your favourite TV shows, films, music and games from anywhere in the house.

SLEEK & STYLISH

SIMULTANEOUS PLAYBACK

SIMPLE & INTUITIVE
Whether you have a multi-media library groaning under the weight of vinyl, CDs and DVDs or you prefer to use streaming services to get your entertainment fix, we can create an audio-visual system that is a pleasure to use. Every aspect of the system is linked to a central hub and can be controlled from anywhere in the house with just the push of a button, the swipe of a finger or a spoken command. And we appreciate that not everyone in your family will share the same tastes, so our systems allow media sources to be played simultaneously in different rooms, keeping everyone happy.
Our AV systems can be controlled in every room via built-in touch panels on the walls, remote controls, or even iPads and iPhones, if you prefer. Like all of Seven Integration's smart home solutions, our multi-media AV systems are designed with you and your family in mind –we work closely with you to create your perfect home.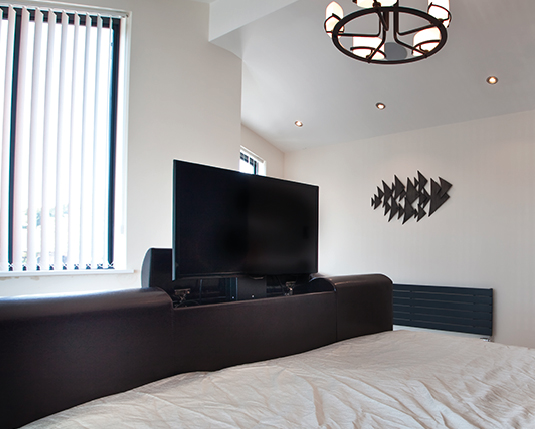 Function and fashion
Audio-visual solutions installed by Seven Integration aren't just about function – we're proud to install AV systems in your smart home that also look good, whether you want to complement the decor with mighty speakers or hide the tech away behind paintings, recesses or furniture.
We can install low-profile or even invisible speakers into walls and ceilings to create the perfect discreet surround sound, and TV screens can be put boldly on display as a central feature or can be camouflaged and covered over when not in use.
Get in touch with us today to see how we can make your family's audio-visual dreams come true.