B&W Factory Tour 2012
What goes into making a pair of B&W speakers? The Seven Integration team went on a factory tour of Worthing's Bowers & Wilkins factory to find out.
Worthing. A seaside town on the south coast in West Sussex. Perhaps not where you would imagine a company with a pedigree like B&W to have its head quarters, but from their humble beginnings at the back of a shop that is still in business with the name Bowers & Wilkins above the door (although only one half of the partnership and not to be confused with the Bowers & Wilkins Group), B&W still reside a stone's throw from the beach turning out some of the finest loudspeakers in the world.
B&W is a company that doesn't cut corners. When the only company in the world capable of making their 800 series cabinets to the required standard found itself in financial trouble they simply bought the company and moved everyone from Denmark over to the UK. The obvious solution!
Although much of the work in building a pair of B&W speakers is automated with robot arms doing the precision cutting and other robots spraying, the vast majority of the work is still done by hand, from applying resin to the Kevlar cones that make the drive units, to polishing, assembly and packing. It takes a day to polish one speaker cabinet and a week to build a single speaker.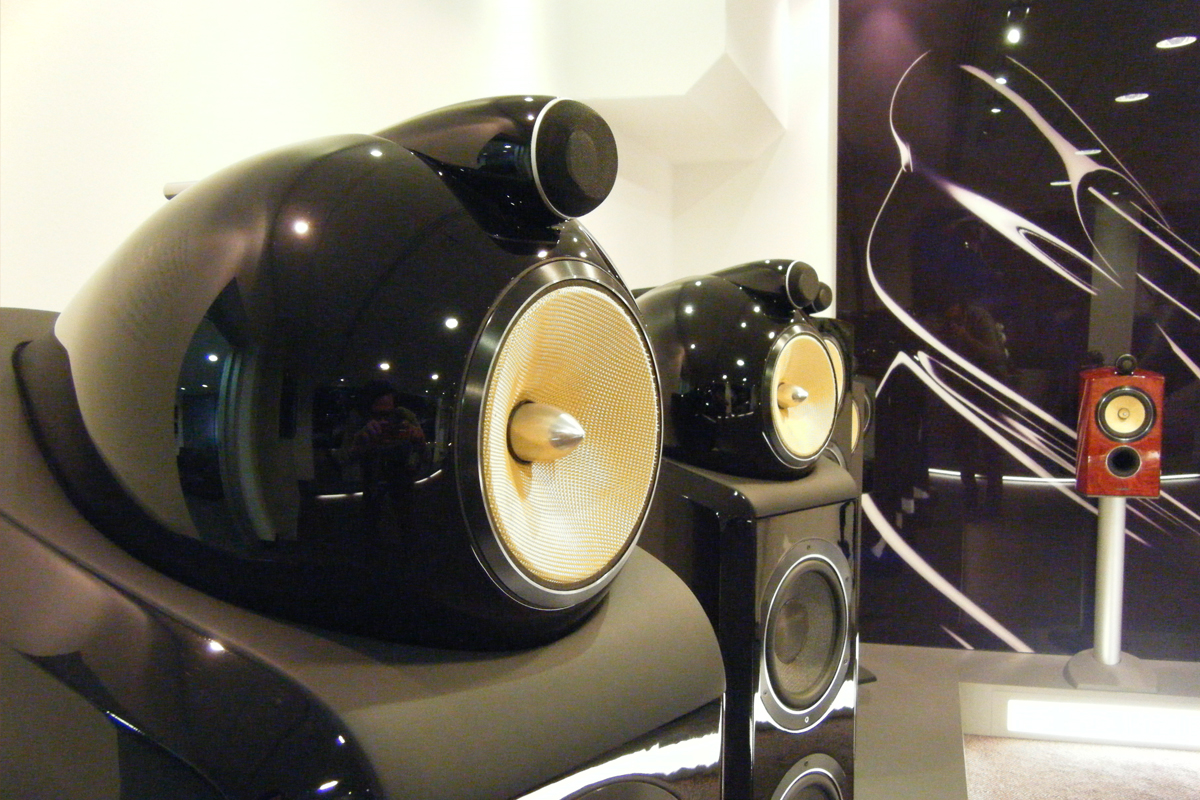 800 Series Speakers.
The service department was remarkably empty when you consider the size of the company shipping to 70 countries around the world, and not just speakers but Rotel electronics and Classe too. Clear evidence of their continuous commitment to quality. Most of the boxes we saw were simply stocks of spare parts .
Our afternoon was spent listening to speakers from their range. The phenomenal PM1's were a surprise to say the least. Admittedly being powered by some hefty Classe amplification,  the small cabinet size will lull you into believing these are just another pair of bookshelf speakers. How wrong you would be!
B&W are known worldwide for their 800 series speakers. What many people perhaps won't know so much about is the CT800 cinema range. These are speakers designed to not be seen and are aimed squarely at the custom installation market. Dedicated home cinema rooms with projectors and surround sound and seating and lighting and… well you get the idea.
B&W CT800's
The demonstration we had went far beyond expectations with incredible accuracy, depth and of course plenty of bang! The system we were listening does not come cheap at approximately £250k including all the amplification, but if you are having a home cinema built, you need to consider B&W CT800's. If you are having a home cinema built by Seven Integration then chances are we will be talking about these speakers.
All in all we had a smashing day with the lovely people at B&W. The facilities they have in Worthing are superb and I for one am looking forward to having a project where we can take the client down to experience for themselves what some wood, magnets and Kevlar can do.
Ready to Start Your Project?
Let's discuss your property visions and how our services can facilitate your journey into the wonderful world of home automation.
Make an Enquiry