Experts, like Seven Integration, will advise you on the 'correct' size of TV for your room. In fact, "Which" has an online calculator to help you decide how big a TV you ought to buy for your home. However, with the average home getting smaller and the average TV getting bigger, you're likely to already exceed the maximum 'recommended' size for your space. Besides, we're of the opinion that there's no such thing as 'too big', especially if you're a major sports fan or film buff.
That being said, if you're reading this, you will want your TV to blend into your home space, rather than take over the room.
So, how can you prevent an enormous TV from dominating your room?
Disguise it.
Modern technology allows some TVs to effectively 'disappear' when not in use. For example:
Samsung's Frame TV becomes a framed painting when turned off (see image below, credit to The Verge)
Mirror TVs reflect light when turned off and can help to make a small space seem more spacious.
Another alternative to a traditional TV is to install a cinema screen which retracts when turned off. This, combined with a ceiling-mounted projector can give you a huge viewing screen that is completely hidden when not in use.
Of course, if you're not in the market for a new TV, you'll need some ideas of how to seamlessly integrate a huge black screen it into your room. Fear not, we have some suggestions below.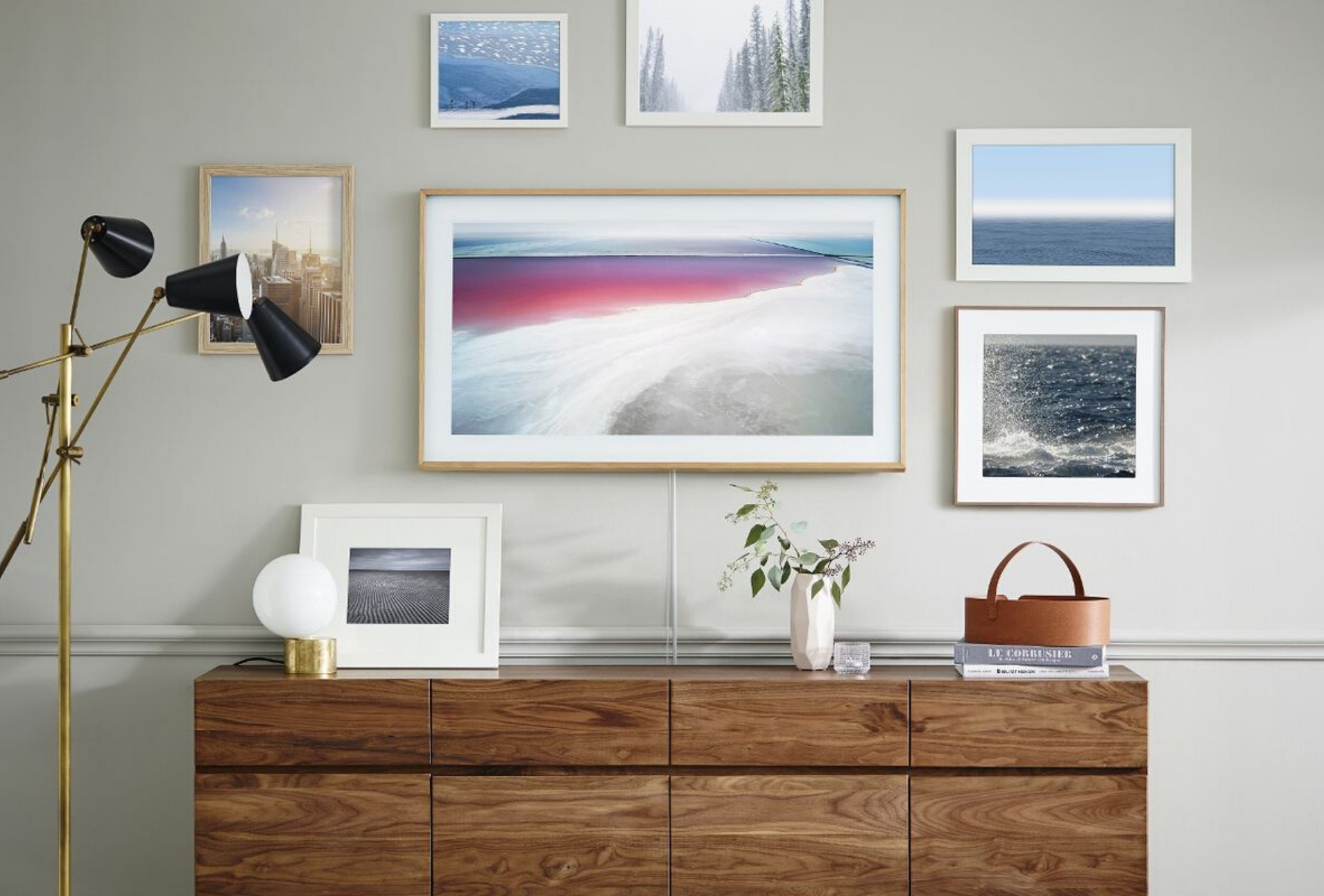 Camouflage it
Of course, we're not suggesting that you cover your TV in cargo netting or smear it with dirt. Rather, we suggest placing your TV inside a bespoke media unit or installing floating shelves around it (see image below). This dramatically reduces its visual impact and allows you to create interest (and divert attention) with other items such as plants, photos or books. In this way, a large TV becomes a smaller part of a large, more interesting visual area.
Hide it
If you don't want your TV to be on display at all, especially when you have guests, you could conceal it completely, for example:
Inside a TV cabinet, with doors or a sliding panel
Tucked behind sliding artwork, using 'picture lift' technology
Temporarily hidden by a beautiful silk or paper folding screen
Conceal the wires
No doubt about it, wires are ugly, so try to hide them wherever possible. If you have a bespoke media unit or cabinet, they will likely be hidden by this, but there are alternative options. You could ask your electrician to 'chase' them into your wall, or if you're buying a new build home, or extending your existing space, consider where you will want to hide wires before the walls are in place.
You might even come up with a natural solution, such as stacking firewood in front of unsightly cables and plug sockets.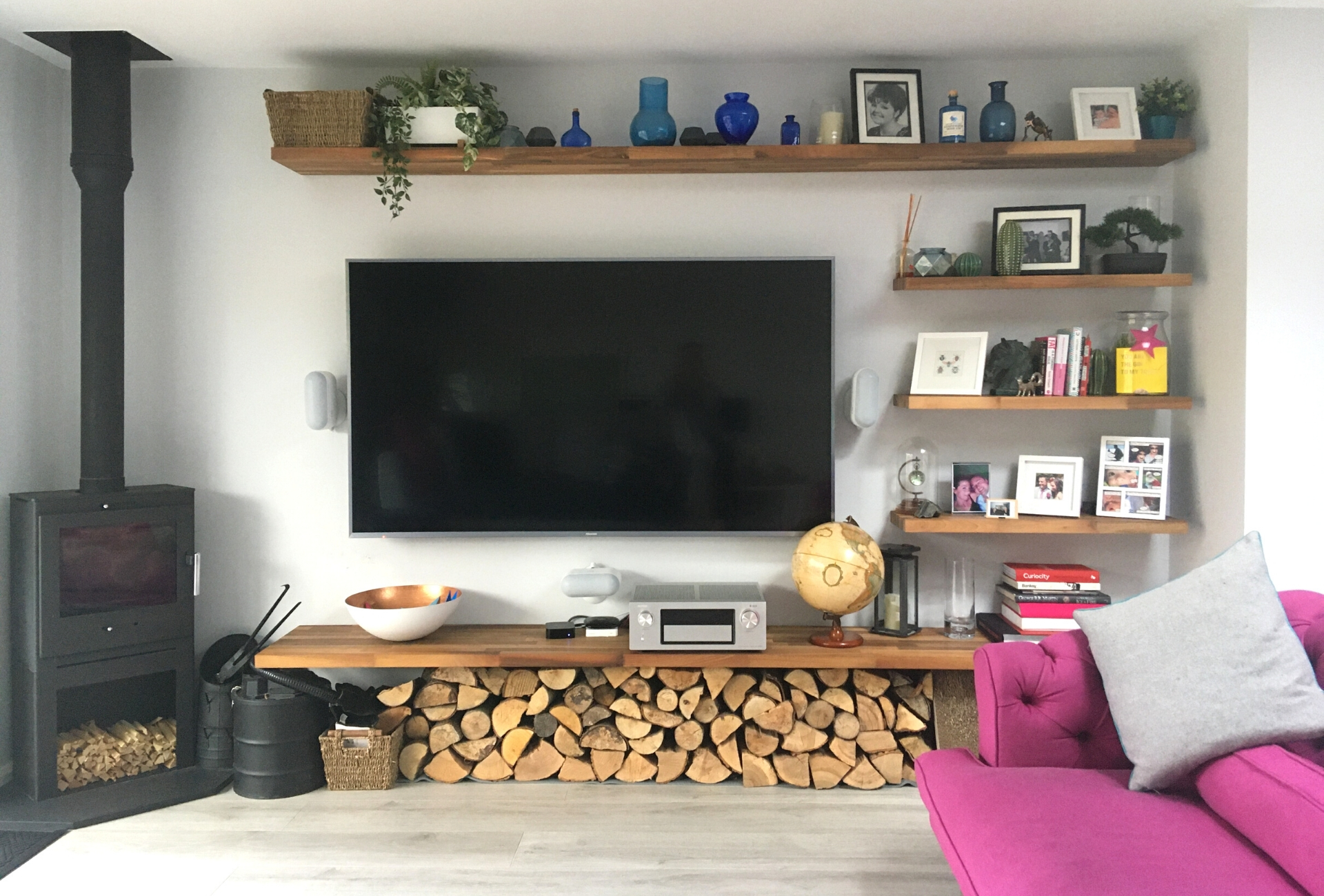 Distract the eye
Think carefully about TV placement. It should never be the first thing you notice when you walk into the room. When watching TV, your attention will of course be on the screen. However, when it's switched off, the TV should not be the focal point of your room.
If you have a large window, consider making this your focal point and draw attention to it with hanging plants or statement curtains. Don't make your upright piano or wood-burning stove compete with the TV screen for your focus.
Furniture placement is key
Consider how to arrange your furniture in order to encourage interaction and conversation. Whilst you will probably choose to place your comfiest sofa or armchair directly opposite the TV screen, create balance and a more sociable space by adding an upholstered bench or low banquette directly in front of (yet not obscuring) the TV.
Another option is to add a second sofa, or occasional chairs at a right angle to your TV screen. If you have a statement sofa in a bold print or colour, you might even choose this to be the focal point of your room.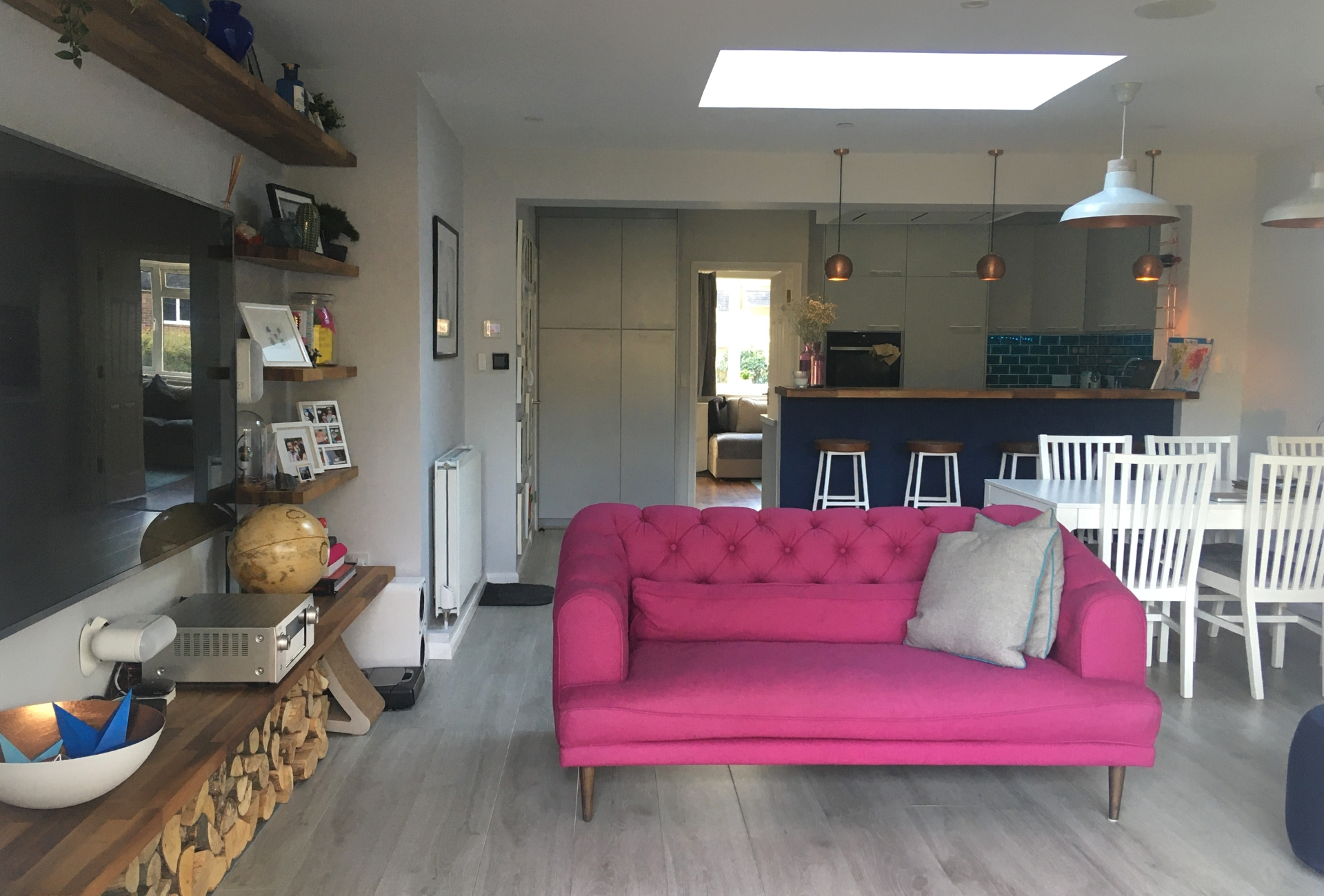 Whatever your space, it is possible to integrate a huge TV so that it doesn't dominate or distract from what is important to you. Don't be afraid to experiment with your space and enjoy movie night on your big screen! This is a guest post by Synsera Homes. Visit their website for property development and investment information, along with more interior design tips and inspiration.
Established in 2016 and based in Kent and SE London, Watermark Homes is a young, dynamic, independent property company with an uncompromising focus. We create high-quality, safe and welcoming homes that are functional and practical in design, yet affordable to rent or buy. We believe that everyone deserves a home like this.
Ready to Start Your Project?
Let's discuss your property visions and how our services can facilitate your journey into the wonderful world of home automation.
Make an Enquiry